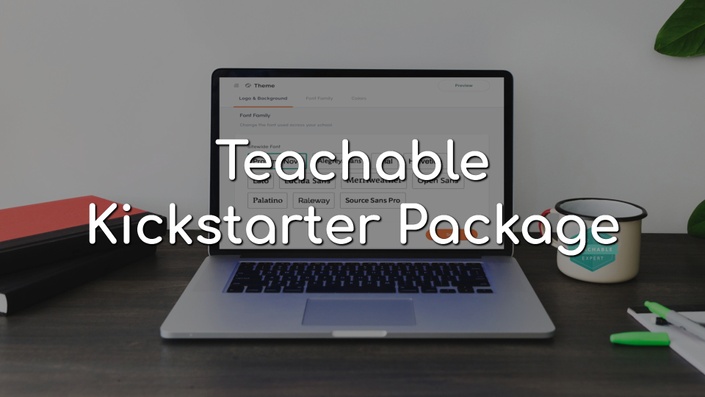 Teachable Kickstarter Package
Have your Teachable school set up, your course uploaded and go!
Let us do the heavy lifting!
Maybe you simply don't have the time, or you just want to focus on different aspects of your online teaching business. Perhaps you're not tech savvy (you don't have to be!), or you are racing against time, you have a deadline. Let us set up your school, your course, upload your content and get you up and running in no time. We do this every day!
More than everything you need for a start for your Teachable school...
From uploading your logo to optimizing your settings, from setting up your custom domain to setting up your own payment gateway we got you covered. That is not all! When you hire us for this job you will have free access to the Teachable School Owner's Crash Course, our online course for a month.
Don't wait, let's do it now!
You might have signed up for Teachable for a while now and still no progress? You may feel like you aren't getting the best out of it. So why wait any more? It is OK to learn a thing or two as you go.
Who is this for?
This package is suitable for those who are on a tight budget but in need to have their Teachable school set up with the basic settings. If you need customizations or special requests, please get in touch and I will give you a quote.
Your Teachable Expert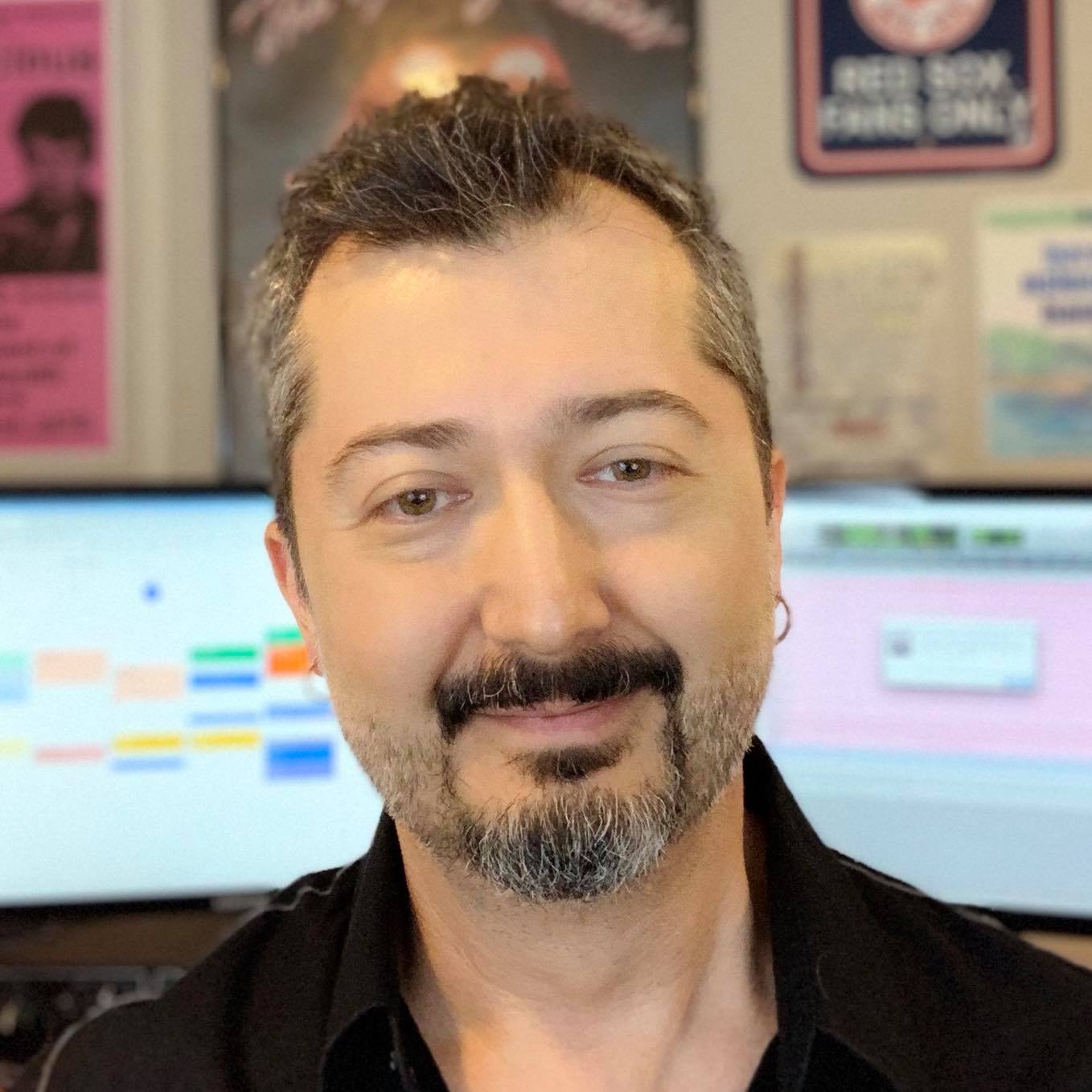 Bora is a Distance Learning Expert. He has helped numerous Teachable school owners achieving a substantial reputation as a knowledgeable and devoted partner to his clients. Bora helps instructors succeed with their online training businesses bringing his wide array of skills to the unique needs of each individual. He has a deep knowledge of e-learning, online course design, social media, online marketing, Teachable integrations, audio and video editing, as well as graphics and web design. Bora is a part-time assistant professor at Berklee College of Music and he also teaches Social Media Analytics at Quinnipiac University. Did we mention that he is also the author of five printed books, a singer, songwriter, guitar player and proud dad of a fifth grader? Click here to view his LinkedIn profile.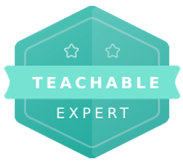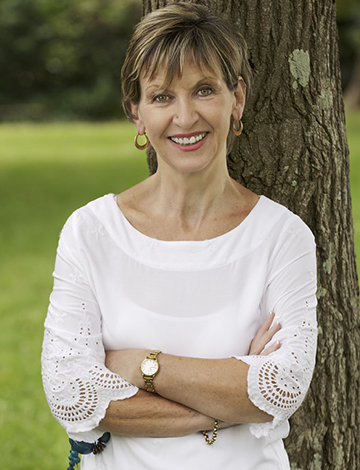 "God bless you. Yes, you are right! Should have married you, Bora!!!"
- Caryn Walsh, Speaker, Coach, Facilitator, www.empoweringwomentothrive.com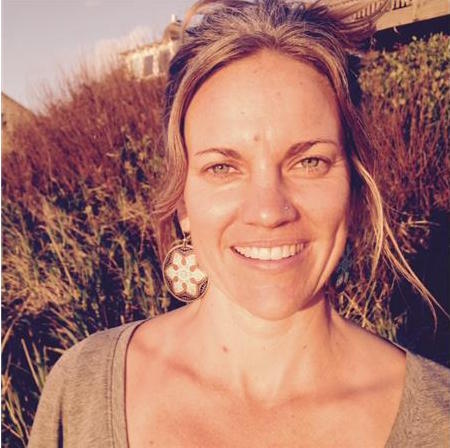 "Your help to me has been huge, you are proficient and professional and very good at what you do and have made my life much easier."
- Sarah Byrden, Leader/Educator/Speaker, http://onlinecourses.theelementalself.com
Here are the details of the service we will provide...
THEME SET UP: We will upload your logo. Set up the navigation bar. We will be choosing the best option, either use it transparent or in color depending on your logo. Upload your favicon. Change the font type. Choose one of the built-in fonts: Proxima Nova / Alegreya Sans / Arial / Helvetica / Lato / Lucida Sans / Merriweather / Open Sans / Palatino / Raleway / Source Sans Pro. Custom fonts will be extra. Please ask. We can also add a link to your "other" website if you have one.
SETTING UP YOUR HOMEPAGE: Choose one of the built-in images or upload another one as a header image. Enter your heading and description. Align them as necessary. Upload a video or add author bio or one other element. Click on this link to get an idea about how your homepage will look like: Sample
SETTING UP YOUR SALES PAGE: Choose one of the built-in images or upload another one as a header image. Enter title and subtitle, course description. Enter your other sales copy (if any), author bio, profile picture and any other items you would like to include: extra images, promo video, testimonials. This set up does not include any custom code. We set up/design your sales page only using Teachable's built-in features. Advanced customizations that require custom programming will be extra, please ask. Click on these links to get an idea about how your sales page will look like: Sample 1 - Sample 2
GENERAL SETTINGS: Remove Teachable branding (only available on Pro Plan and above). Enable comments. Set up notifications. Toggle CAPTCHA. Enter your PayPal information to get paid by Teachable (if you are using Teachable's payment gateway). Homepage settings for logged out and logged in users
CUSTOM DOMAIN: (Only Available on Pro Plan and above) Setup your custom domain. Customize your Teachable school so that you can use your own domain name for your school. Like yourschool.com or a subdomain like courses.yourwebsite.com. You must have bought your domain name. If not I can help with that too for a little extra.
EMAIL SERVICE PROVIDER INTEGRATION: Integrate your Teachable school with one of the email marketing tools such as MailChimp, ConvertKit, Aweber etc. When someone enrolls in your school, he or she will be added to your email list automatically. This does not include grouping/tagging or setting up email marketing sequences or automations. That is something we do very well. Please ask for a quote if you need that as well.

SETTING UP YOUR CUSTOM PAYMENT GATEWAY: (Only Available on Pro Plan and above) Set up your own payment gateway for instant payouts and less processing fees. Integrate your own PayPal Business account and Stripe.
UPLOAD COURSE CONTENT: I will upload your videos, audio files, PDFs and other file types you might have. I will create your sections and lectures in Teachable. This task is for a single course, no bundles or no courses with more than 25 lectures (lessons) assuming each lecture includes a single file, not multiple files. Please ask if you are unsure of what that means. I will also need the files uploaded in a cloud application like Dropbox or GoogleDrive. Please contact me for a quote for multiple courses and/or longer courses.
FREE ACCESS TO MY ONLINE COURSE: You will have free access to my online course Teachable School Owner's Crash Course for a month! This course is aimed at Teachable school owners or administrators where I provide information about how to use the platform. Click here to visit the course.
Please contact me if you are interested in signing up for this program. You can send an email to [email protected]
Or use the chat box at the bottom right. We should first figure out if this is the right program for you and if we are a good fit.

Fine print: Please keep in mind that this offering only includes the tasks clearly listed above. I would like to state that I will be using Teachable's built-in tools to design your Sales Page and Homepage like the samples provided above. I do offer advanced customization or custom code, don't hesitate to ask for a quote if you have special requests. This offering comes as a package, I will not be able to give you a discount/refund if you do not need all of the tasks above. I would be happy to fulfill your request for a set of minor revisions after I complete homepage/sales page design. Though, if your revision requests will require a complete redesign or more than a few tweaks I will have to charge extra at my regular hourly rate for the extra time I spend.
This is NOT a service that you pay now, but use it whenever you want in the future.There have been a couple of occasions where I was hired but the client did not provide the information and the materials I need to complete the task in a timely manner. If you hire me, I expect you to start working with me right away to get this done for you. Typically I complete the entire process in about two weeks, sometimes faster-depending on your response time. The project must be complete in 30 days maximum from the day you signed up and it is your responsibility to provide the materials in a timely manner.

As an official Teachable Expert, I enjoy delivering excellence in my professional services and, as my many hundreds of clients remind me, my respectful, efficient communication creates an environment of trust. And trust is key to helping my clients be successful.